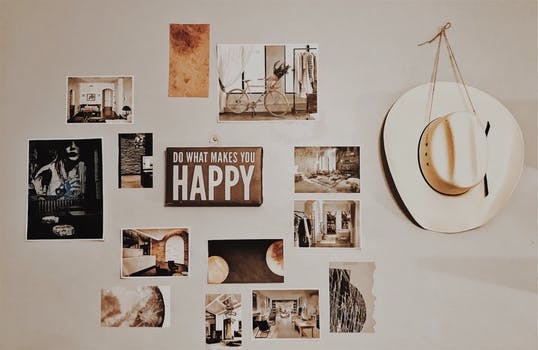 Home Decor
The first step in learning about hanging pictures is knowing what type of home decor you want. Take a look around your house and figure out what your interior design style is.
If you don't feel like you have one, then pictures are a great way of incorporating a unique style into your house. If you want to know what is trending in 2021, then you're in luck.
Bold is in.
That means you can mix and max contrasts, colors, and designs. If you want bold, unique, or modern artwork on your walls then take the risk. Also, don't be afraid to mix larger artworks and frames with smaller ones.
There aren't really any rules - so make it fun and follow your gut.
The vintage look is also in. You can combine artwork with retro or antique pieces for a modern, cozy, and unique design. Good lighting and rich-colored fabrics can make gallery walls and rooms pop even more.
If you aren't comfortable going with the bold approach, you can opt for warmer tones and colors. Burnt orange and blue hues are in this time of year and are great for the winter and summer months.
If you love art history - or antiques in general - then take a step back in history and look for classic artwork. Classic traditionalism is the new term that combines modern aesthetics with a tasteful, classic approach.
Whatever your interests are, wall art can be the defining aspect of a room. Make sure you spend the necessary time choosing art pieces.
Gallery Wall
A gallery wall is a mixture of different artwork. It can be bold and different or follow a symmetrical pattern. You can combine paintings, pictures, and posters. Or - you can stick to one theme.
First, decide what you want to hang on the wall. You already briefly read about different interior design and home decor styles that are in. If you want it family-oriented, then you might opt for photographs that capture memories and family photoshoots.
By taking a more vintage approach, you may choose various classic and traditional paintings. These can be on canvas or posters. If you want to mix and match them - then that is okay too!
There are no defining rules on what you hang on your walls. However, before you start making dents into the wall, lay out all of your options and see which ones appeal to you the most. Next, pick a room or wall that you want as your gallery wall.
This wall should have enough room for holding all of your pictures and other pieces of art. You also don't want it to seem overcrowded, so pick somewhere that gives you enough space for what you have in mind.
Ideally, this wall will be in a space where a lot of people can see it and where there is good lighting. Sunlight and artificial lighting are great for giving your space an open and bright look. However, take the time beforehand in protecting your artwork from damaging UV rays.
Use UV-protected glazing or anti-UV varnishes for the best protection. This will help protect the colors of your photos or paintings from fading.
Next, grab a friend or a family member for help hanging pictures. You will definitely want a second opinion on height and placement.
How To Hang a Gallery Wall
Once you have a second set of eyes, you are reading for hanging pictures. Here are a couple of helpful hanging tips and items you should have on hand:
Tape measure and pencil
Level
Hammer and nails
Command strips, if applicable
Most interior design experts suggest hanging artwork at eye level. On average, shoot for around 57 to 60 inches above the ground. If you have vaulted or tall ceilings, you can get away with a little higher.
Make sure you layout your artwork beforehand. One way to see how a collection looks on a wall is by tracing the artwork onto a piece of paper or poster board.
Then you can tape them up on the wall and see which designs you like. Remember, symmetry often looks the best. Try rearranging your photos or artwork in a way that looks aesthetically appealing.
If you have varying sizes, use the largest piece as the centerfold and place the smaller pieces around it. When you start hanging your wall art, use a level and your other companion to make sure that all of your pieces are centered and not hanging off-balance.
Custom frames and framing pictures can add a unique look to your gallery wall. You might consider adding in a few custom-framed pieces to complete your look.
Make Your Home Pop
Artwork can completely redesign how your home looks. If you are wondering how to hang a gallery wall, start by finding the right place for printing your photos and designing frames.
The right type of artwork is the first step in hanging a beautiful gallery wall. Contact us today and let us help you take the first step in hanging wall art.