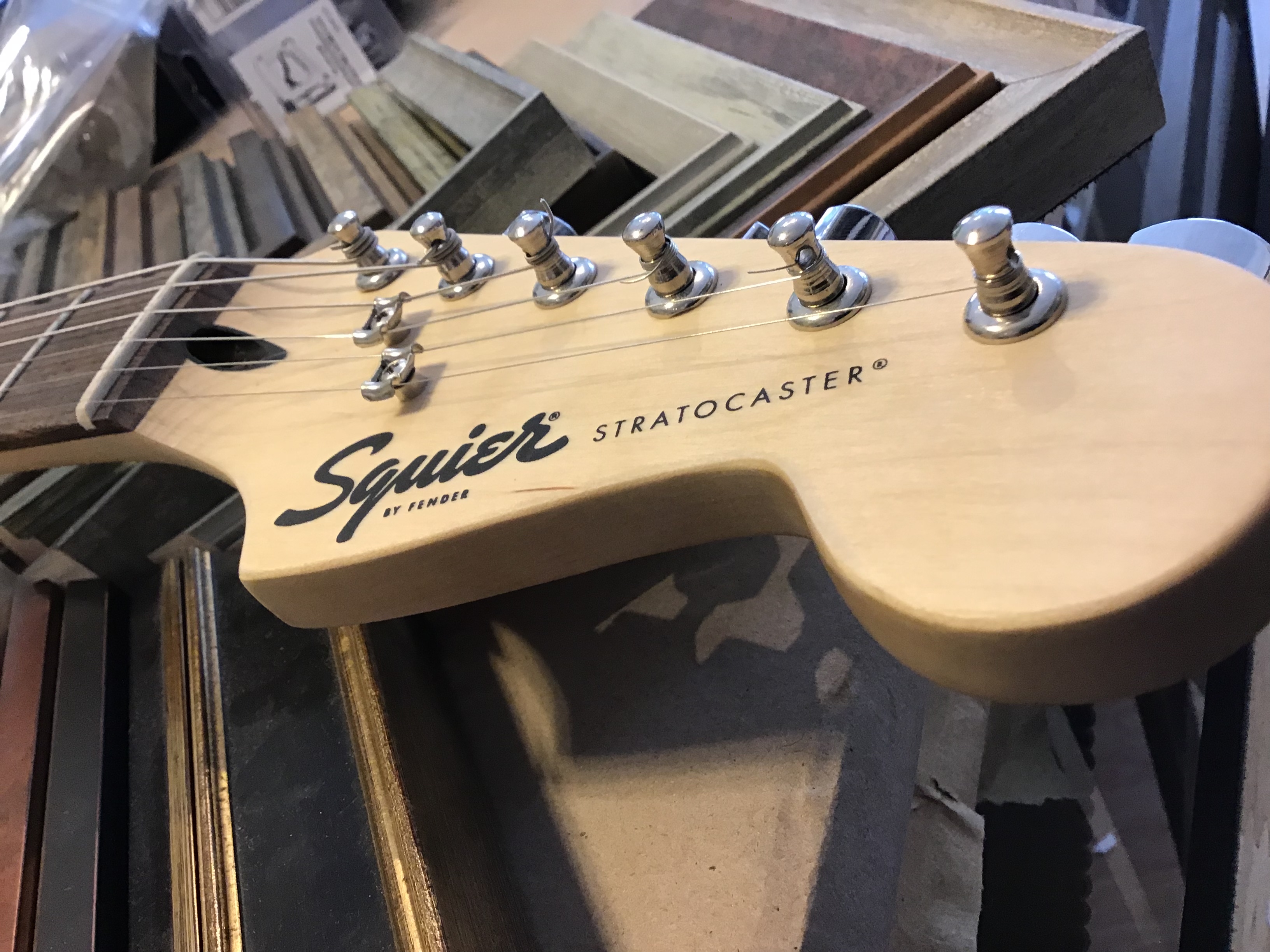 What a Rush: Rocking out a Guitar Mount in a Few Days
Recently we received a call from a potential customer inquiring about how to order a shadowbox mount of a Squire Stratocaster for a corporate gift.
We are a small, locally owned business which allows us to provide outstanding customer service to all our clients and jumped on the opportunity to work on such a cool guitar wall frame project.
BUT. There was one catch: they needed it done in less than a week.
The time pressure was on and the lights were on us. This awesomely rad opportunity quickly turned into a custom framing challenge, but The Frame Room was up for it.
Customizing a Guitar Frame Display
Guitar frame display projects add a new dimension to the instrument. More often than not, guitars are hung on walls without a guitar frame wall mount, which is an opportunity to turn things up to 11.
This particular customer was interested in submitting the order on our website; today when technology moves at the speed of light, most of us forget about the hands-on approach to problem solving.
After discussing all our options and learning the design specifications we were able to get rockin' and rollin' on this unique undertaking to get a guitar in frame.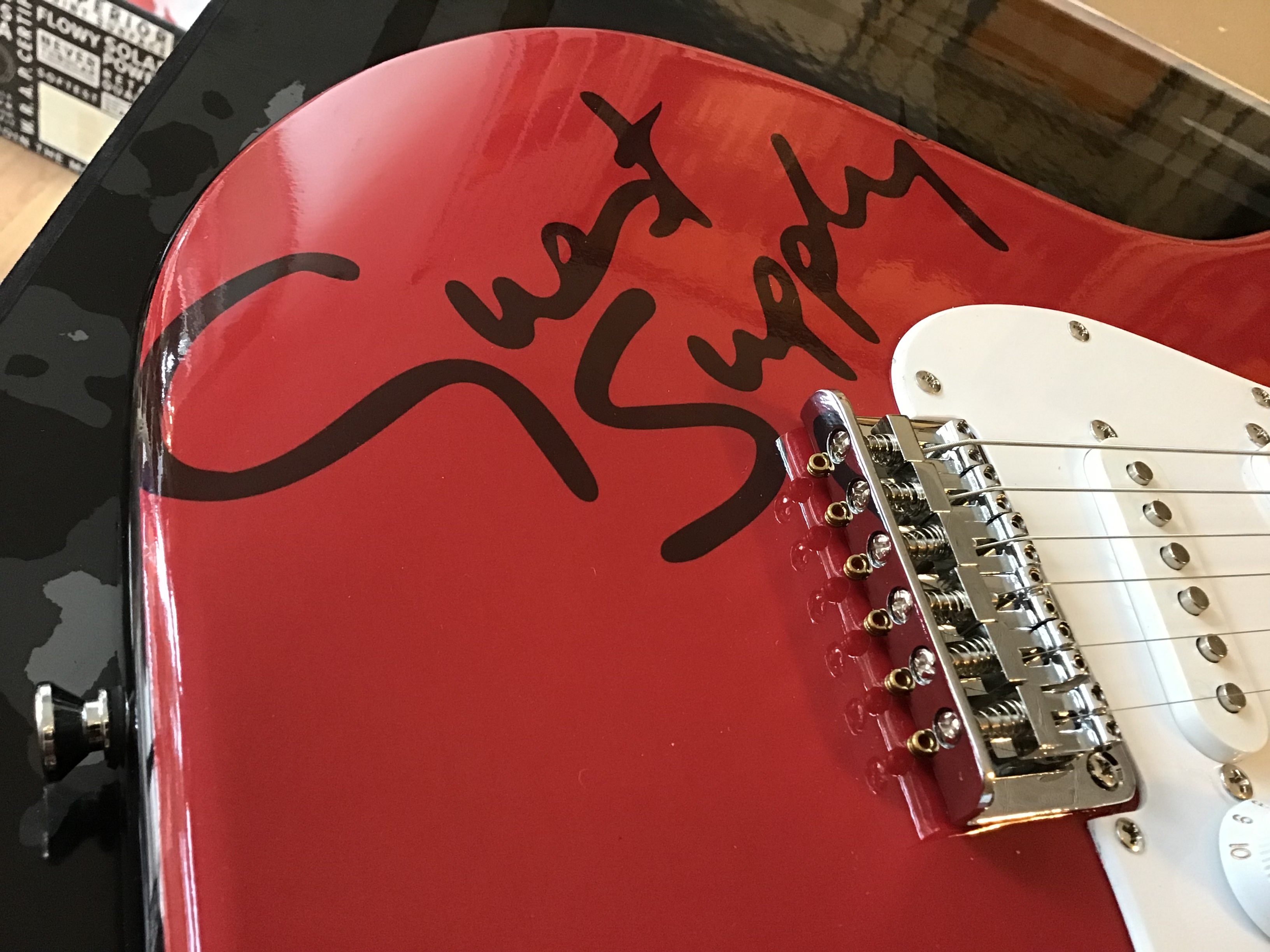 Guitar Frame Wall Mount
Instead of a traditional mat board for the mount, we printed and mounted a large photo with graphics to serve as background to the guitar.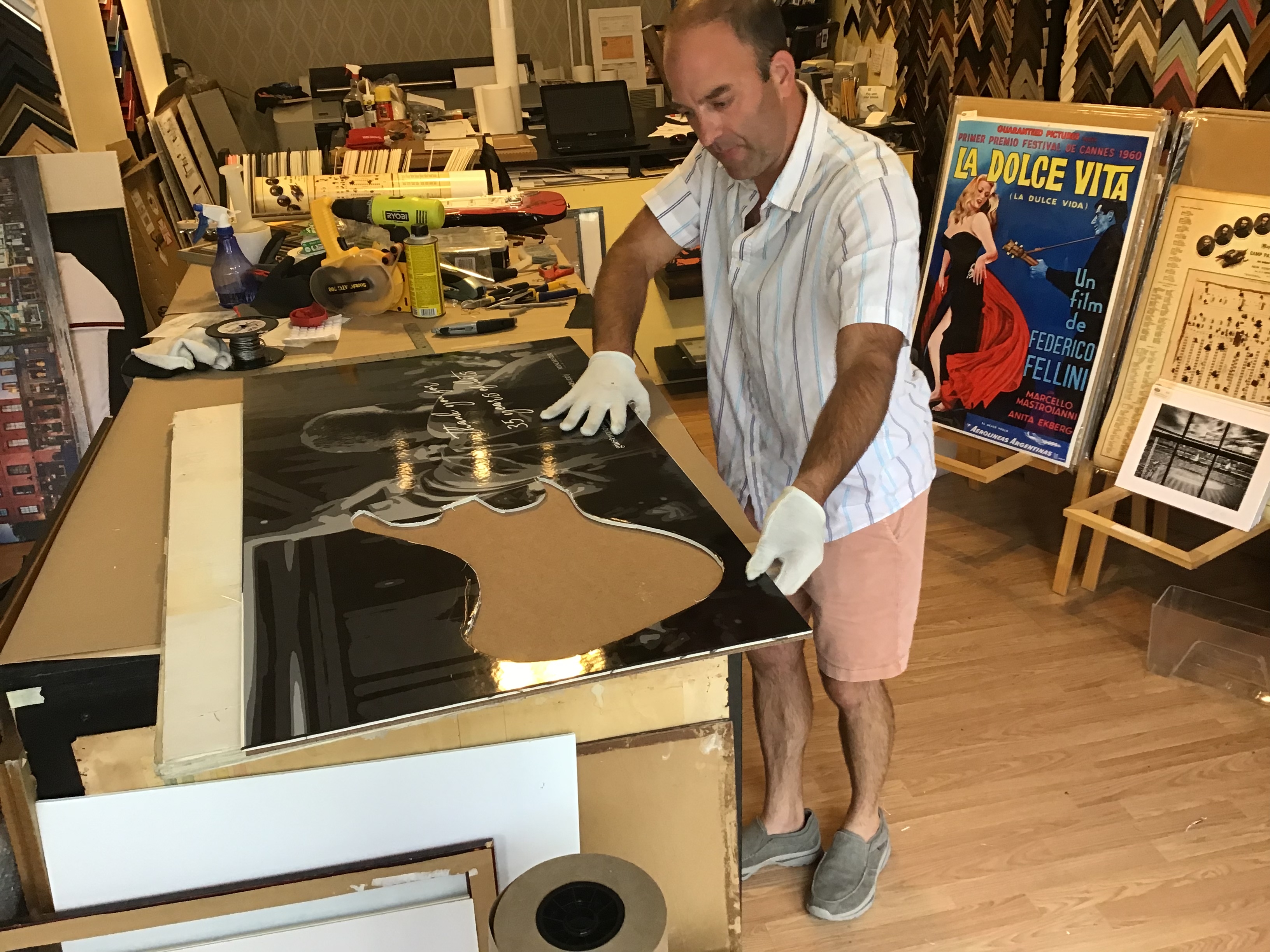 Using our knowledge of how certain materials react to certain adhesives we decided the best route was to cut out the shape of the guitar, slightly smaller to avoid visible edges, and mount the object directly to the hardboard. IMG_2817.jpg
After double, triple, and even quadruple checking our measurements, we were confident it was time to position and attach the instrument.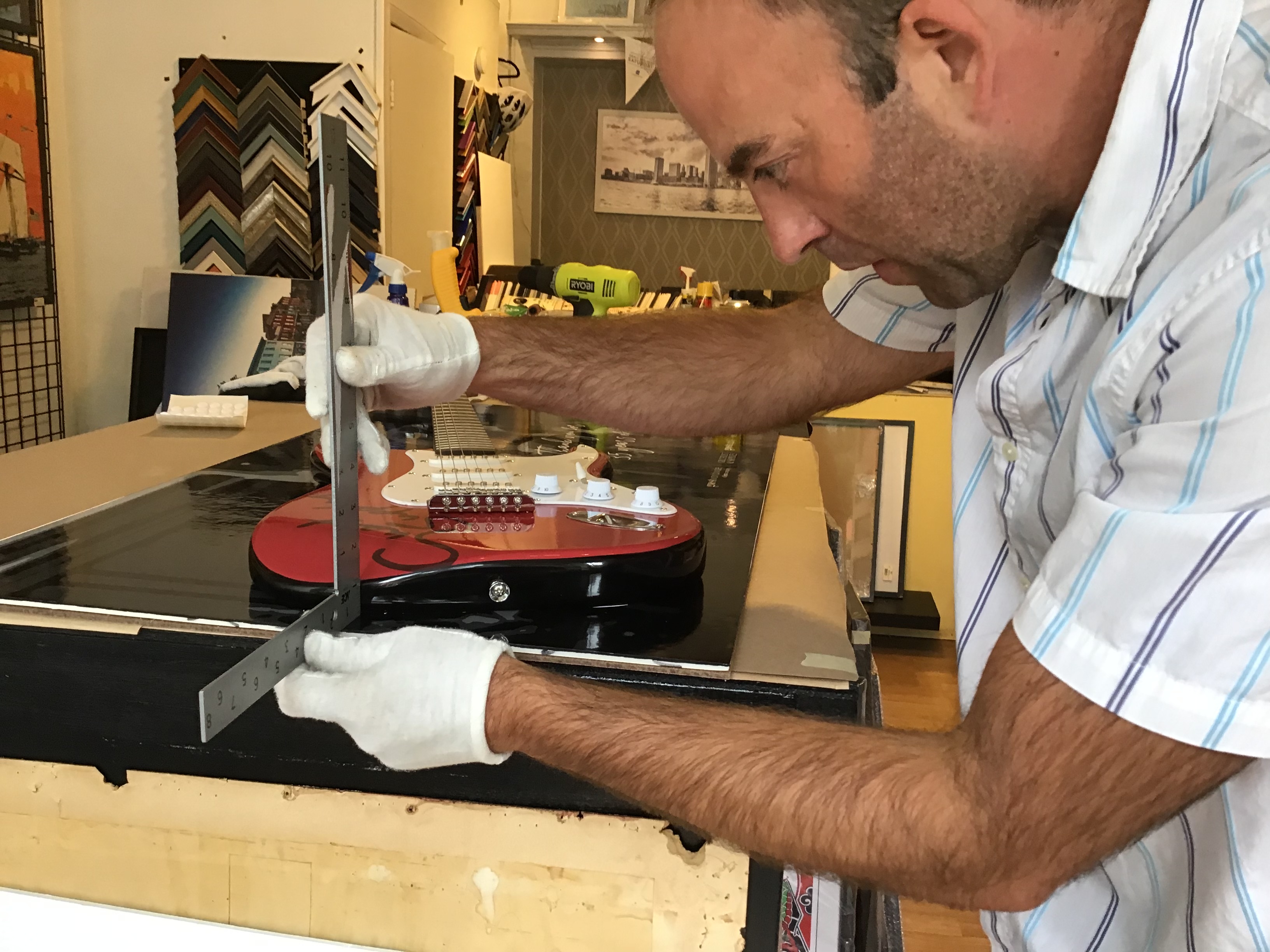 Through trial and error from a previous project, we wanted to make sure the guitar and guitar frame wall would stay securely in place with the right adhesive bond by using Locktite Powergrab and Sika Mirror Grip.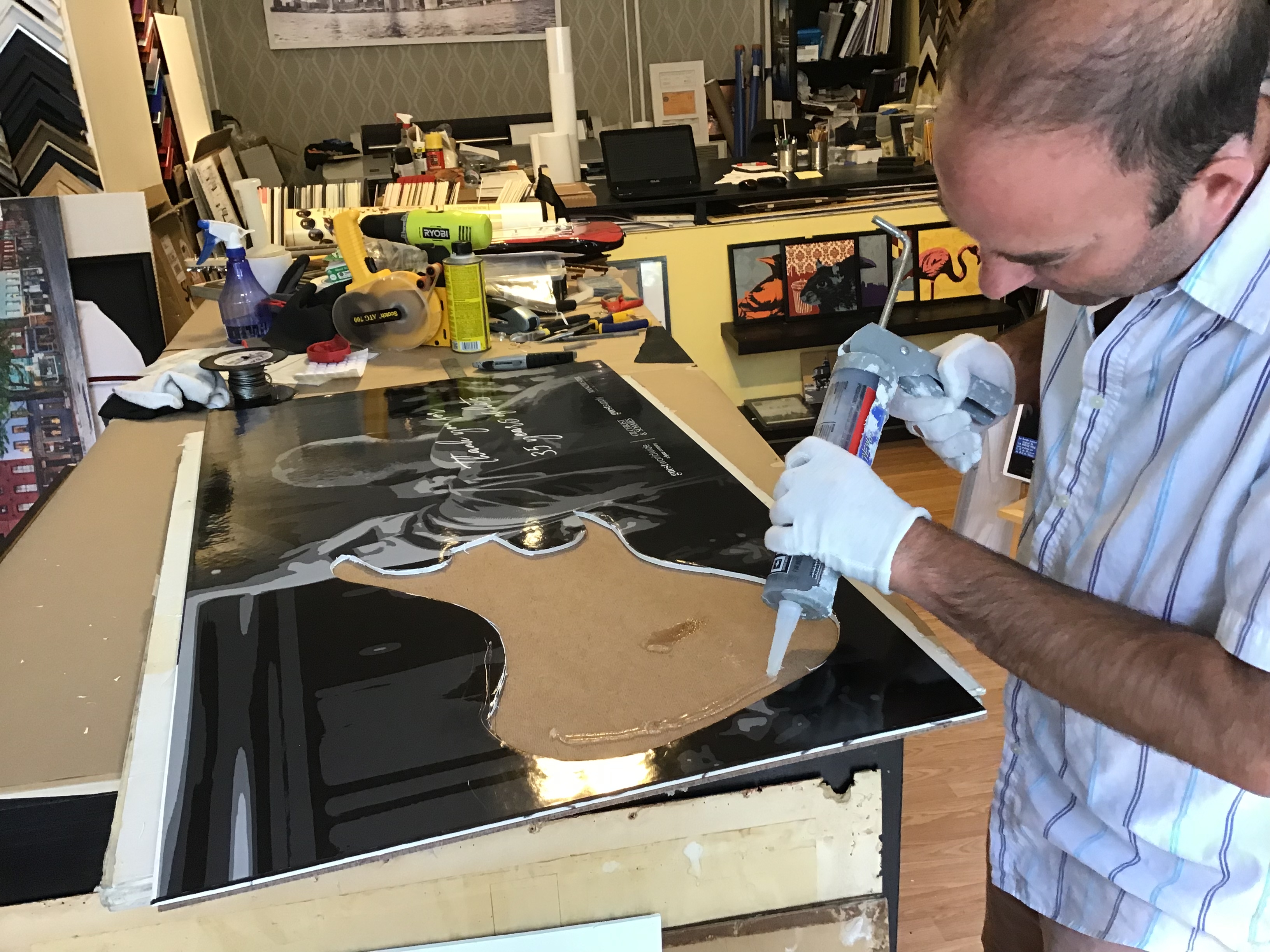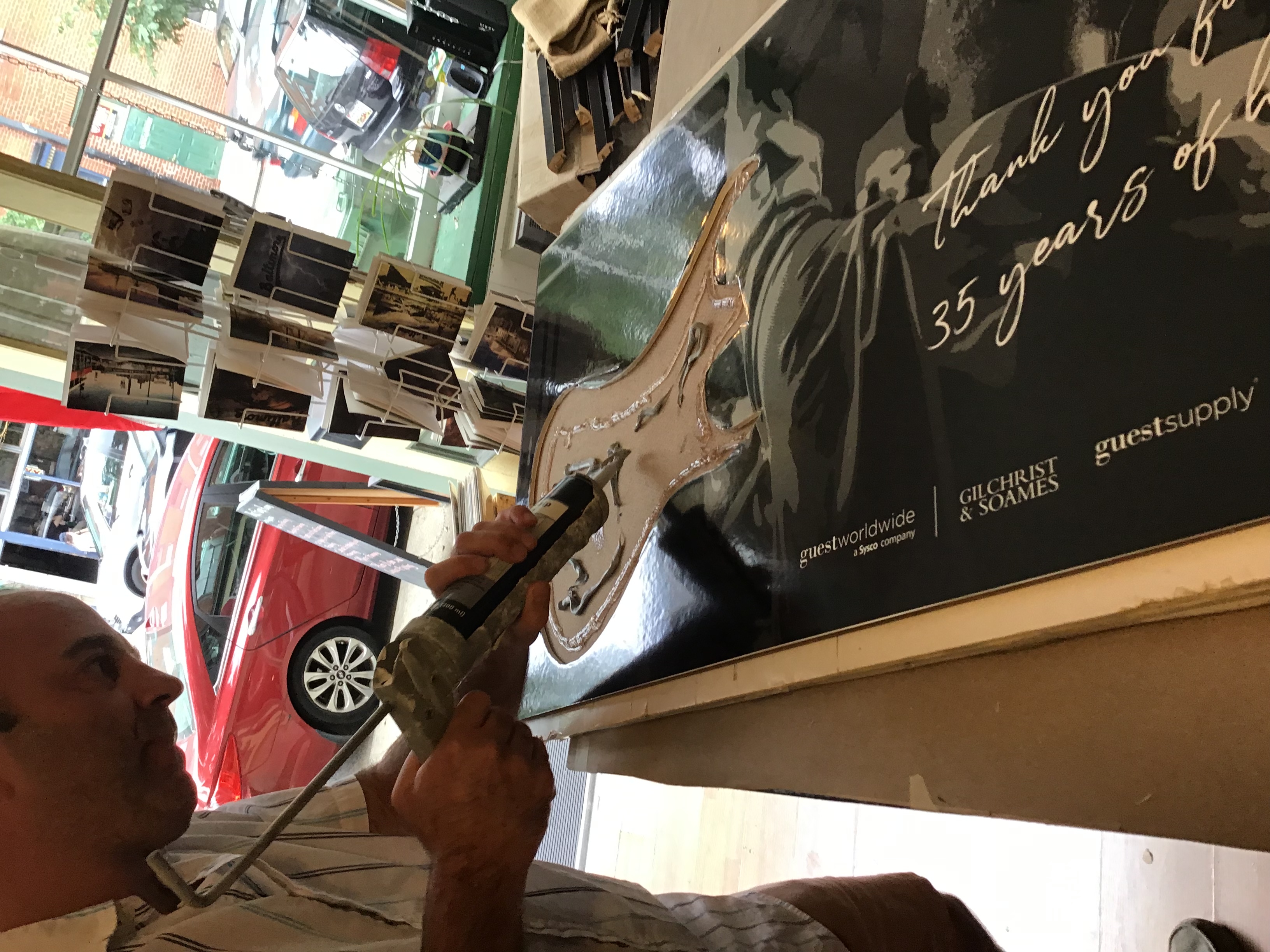 Once we were sure our placement was correct and confident in the amount of adherent we used, it was time for the headliner to take the stage: The Fender.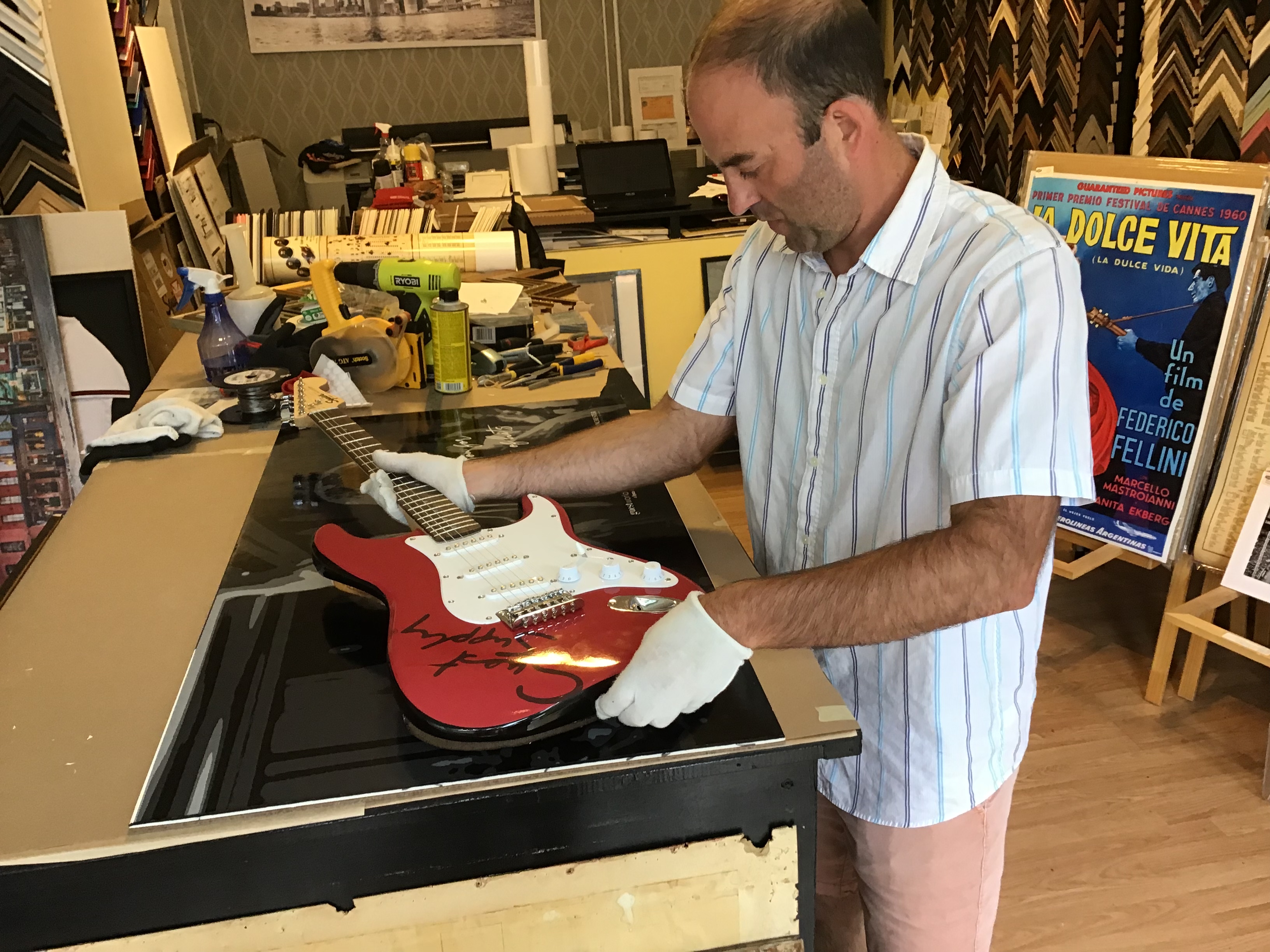 Get it Together, Man!
Using our 15+ years of experience in the framing world, we knew the glue would hold. However, to be extra careful and secure in mounting such a heavy object we pierced tiny holes through the hardboard and mounting board and strung the guitar in strategic locations using clear fishing line. Thus, ensuring this mount would rock for ages.
After letting the glue cure overnight, we were able to assemble the ensemble. The frame was prepared by inserting the UV protective glass in first, then building identical height black foam core walls, and attaching them to the inner walls of the box to serve as supports for the mounted piece.
Working right-side-up, or upside down if you're a custom framer, we steadily lowered the shadowbox frame over the mounted guitar. From underneath we tacked the board in thoroughly. The final step was to attach the dust cover and hangers to the back and the operation would be complete.
Finished Guitar Frame Display: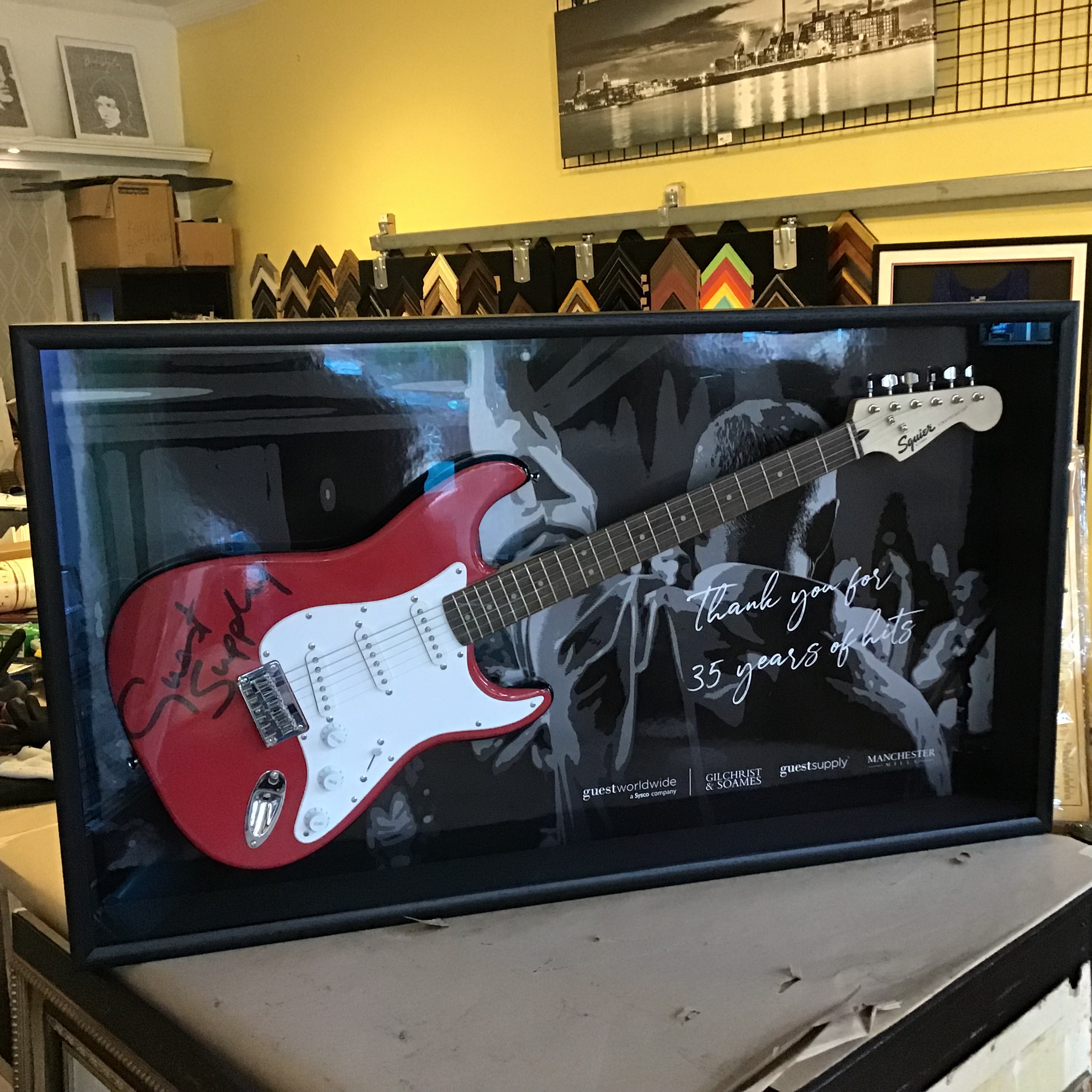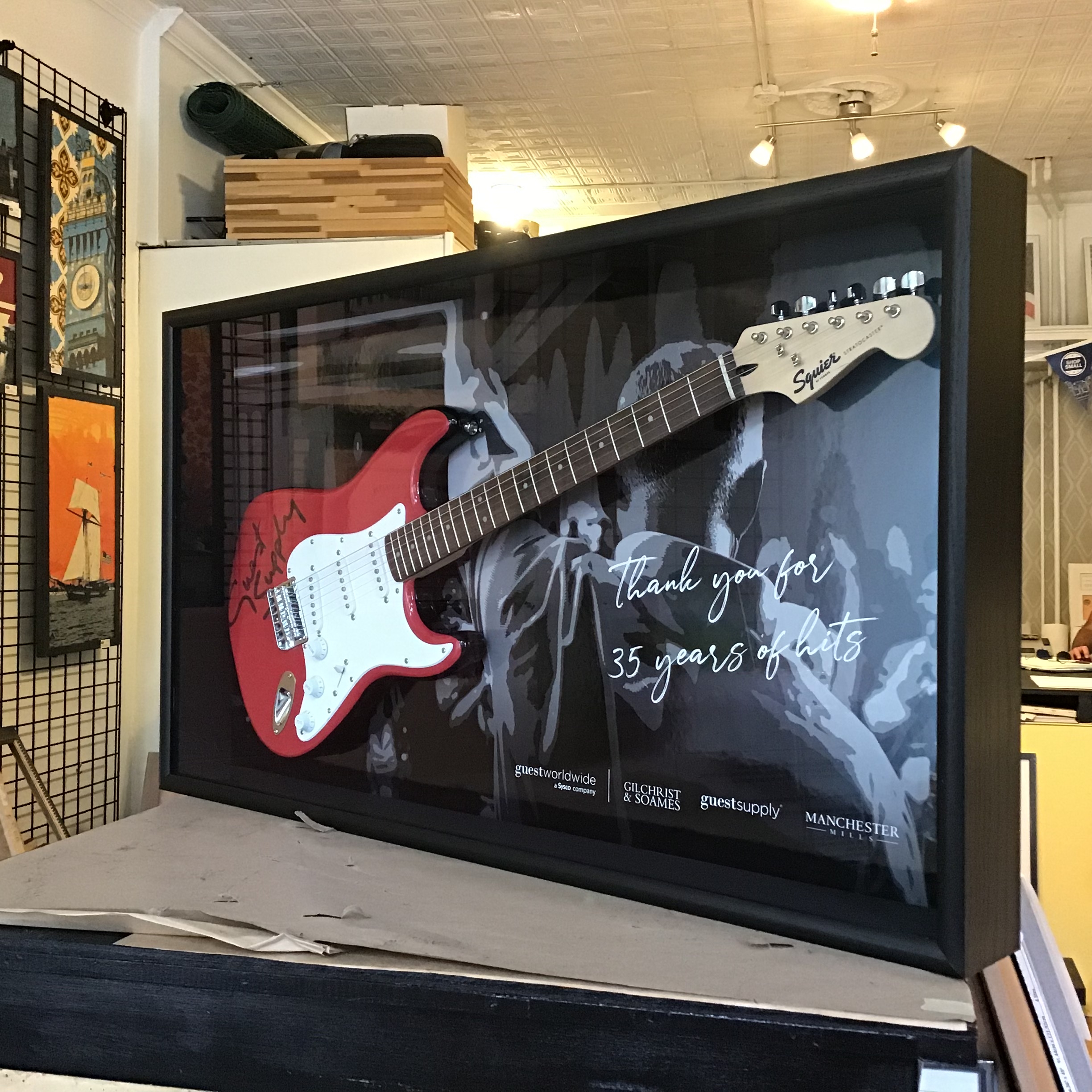 Get Your Guitar Frame Display Today!
At the end of this project, the customer was completely blown away by this guitar in frame.
When it comes to fun and creative challenges like these, our expert custom framers at The Frame Room strive to meet the requests of our clients.
We platinum designed and executed an ambitious project in record time, and established a lasting connection to another satisfied consumer.
We never fret when it comes to a new challenge. Submit your custom framing order now!