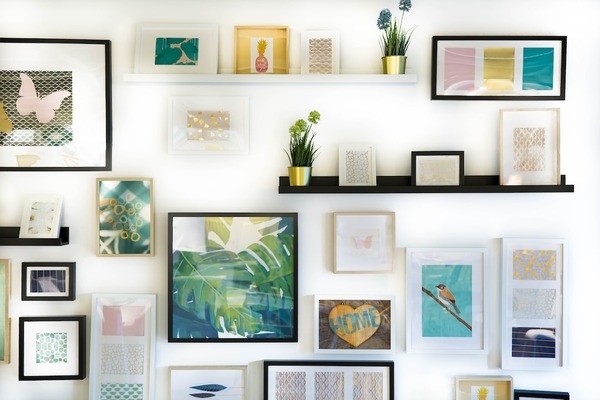 From special family photos to your favorite work of art, hanging things on your walls adds a personal touch to any room. According to recent statistics, the global wall art market may reach an incredible $97.79 billion by the end of 2030.
But before you look for the perfect wall decor, it's important to know the best ways to hang it in your home.
Read on to learn more about the different types of picture hangers available, so you can decide which ones are best for your wall decor.
Adhesive Strips
Featuring a sticky surface, adhesive strips use special glue to hold onto pictures and framed art. Some feature a two-part design that holds the piece up to the wall with Velcro in between each section.
If you decide to use these types of picture hangers, be aware that they usually aren't made for heavy items. Most people choose adhesive strips to hang posters or extremely small or lightweight wall decor.
When applying adhesive strips, make sure you put them on every corner of the artwork. This will ensure that the weight is evenly distributed so it doesn't pull away from the wall or slide off.
Classic Brass Hooks
Brass hooks are very easy to use and can hold most pictures securely on the wall. The hook comes with two tiny nail holes and two needlepoint nails that hold it in place.
When you hang the hook on the wall with the nails, it sits at a 45-degree angle. This specific angle is designed to provide maximum support.
Most small brass hooks can support frames weighing anywhere from as little as 30 pounds to as many as 100 pounds. Once you nail the brass hook directly into the wall, you can hang the frame on the hook using a D-ring or hanging wire. You can also use hanging brackets that are similar in style but go onto the back of the picture frame.
Conventional Hooks
One of the most common types of picture hardware is simple wall hooks that you nail into the wall. These small hooks are usually sold specifically for this purpose. You may also find them as part of a complete picture hanging hardware kit.
Once they're on the wall, you can hang your wall decor using whatever is on the back of the frame, or using picture wire. Most picture hooks are plated with zinc and can hold between 30 and 100 pounds.
The angled nail socket on these hooks makes it easy to hammer the nail into the wall. The hook itself sits lower than where the hanging wire will sit, so you'll want to make sure you measure where you plan to hang the wall art beforehand.
Make sure you gently tap the nail into the wall so as not to over-hammer the nail. If you do, it may make the grip of the nail weaker, which could cause your wall decor to pull the nail and hook out of the wall and fall off.
Types of Picture Hangers: Saw Tooth
A saw tooth hanger is usually already attached to the back of the frame since it's part of how many manufacturers sell their products. Some saw tooth hangers come separately and have tiny holes in them so you can gently tap them into the frame with a small nail.
This picture hardware works best on lightweight artwork. It can usually handle most pieces up to a weight of around 25 pounds maximum. To hang wall decor using saw tooth hardware, simply hang it directly onto a nail in the wall.
Heavier frames will cause the saw tooth hanger to pull away and detach over time. When adding your own saw tooth hanger, make sure that it's located directly in the center of the frame. If it's off-kilter, it will cause too much weight to pull on one side.
Hanging Anchors
Hanging anchors or drywall anchors consist of two pieces, including a screw and a plastic anchor. Together, they form a strong hold that can handle heavier and larger wall art and decor like wall sculptures.
When you use hanging anchors, you'll need to make sure that the hole is large enough. This usually requires you to use a drill first so that you can make a decent-sized hole.
Once the hole is there, simply insert the anchor, then the screw. This hanging hardware works great for extremely heavy pieces. The only downside is that if you ever move the artwork, the anchor and screw leave a large hole behind that you may need to patch and paint over.
Hanging Screws
The term hanging screws actually doesn't mean that the screw itself goes into the wall. Instead, these screws usually have a small loop on one end, and the screw portion goes directly into the frame.
When the hanging screws are inserted into the picture frame, you can use the looped end to hang it on the wall. Most people do this by inserting one hanging screw into each upper corner of the frame, then adding picture wire.
The durability of hanging screws makes them a popular choice for picture hardware. Combined with sturdy wire, and these simple screws should keep your wall decor stable and secure.
Choose the Right Hardware
Once you know more about the different types of picture hangers available, it's easier to decide which ones will work for your wall decor. Whether it's hanging brackets, anchors, or screws, each style is designed to help you create a beautiful display.
If you need custom framing or custom poster and canvas printing, be sure to contact the team at The Frame Room Today!