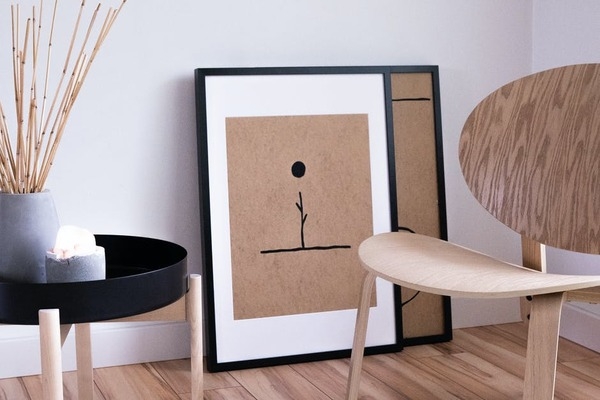 Picture frames are essential to protecting and preserving artwork. There are many different sizes available, so choosing a frame should be easy. Unfortunately, that's not always the case.
Large works of art often don't fit into a standard-size frame, so custom framing might be your only option. The downside is that custom frames are often quite expensive.
This is where DIY framing comes in. You can create the perfect-sized frame for your artwork at a fraction of the cost. And if you didn't know, The Frame Room offers DIY custom framing services if you would prefer a little help with making this the perfect gift!
Keep reading to learn how to make your own large DIY picture frames.
Materials and Tools
You can make DIY picture frames with a few simple materials and tools. Here's what you'll need to get started:
Foam board
Pencil
Razor cutter
Wood
Wood glue
Corner brace brackets
Screws
Caulk or wood filler
Paint or stain
Acid-free glue or artist's tape
Super glue
Tape measure
Long level
Miter saw
Clamps
Drill
You can purchase these items at craft and hardware stores. You may even already have some of them at home.
Step 1: Take Measurements
First, you'll need to measure your artwork. Then, decide how much of the mat you want to show around your artwork. This will help you determine the size your mat needs to be.
Once you've figured out the correct dimensions for the mat, cut your foam board down to size. It's good to leave a few extra inches when cutting the foam board. You can cut off any excess once you've assembled your frame.
Step 2: Create the Mat
Using the level, draw a rectangle the size of your artwork in the middle of the foam board. This is where you'll place your artwork, so make sure the lines are as straight as possible.
Next, use your razor cutter to cut out the rectangle. Make sure you press firmly and cut all the way through the board so the paper doesn't rip when you remove the rectangle. You will attach your artwork to this cut-out later, so don't throw it away.
Step 3: Assemble the Frame
Now that you've created your mat, it's time to cut the wood for the frame. Measure the length of the mat on all sides and then cut your wood to size with your miter saw. If you don't have one, you can use a table saw to make straight cuts and join the wood at 90 degrees instead of 45 degrees.
Use wood glue to affix each of the corners together. Place the frame in a clamp while the wood dries. Using clamps is optional, but it will help your frame to keep its shape.
Once the glue has dried, screw on the corner brackets for extra stability. Make sure that the screws are shorter than the wood so they don't poke through to the front of the frame.
After you've assembled your picture frame, use caulk or wood filler to fill in the joints. Once it's dry, then you can paint or stain your frame.
Step 4: Attach Mat to Frame
Attach your artwork to the foam cut-out from step 2. If you're framing a print, you can use acid-free glue to attach it to the foam. If you're framing an original work of art, it's better to use artist's tape so you don't damage the artwork.
Next, attach the mat to the frame with super glue. Make sure the mat is straight before pressing down. You may need a second person for this step to look at the mat from the front while you position it from the back.
At this point, you'll be able to see if there is any excess foam around the edge. Use your knife to trim any foam that extends past the frame.
Now you're finally ready to add your artwork! Attach it to the back of the mat using either acid-free glue or artist's tape.
If you have any extra pieces of wood, you may want to attach a piece to the back of the frame behind your artwork. All you need to do is screw the wood into the frame at the top and the bottom. This will make your picture frame more stable and will hold the artwork tight to the mat.
Step 5: Add Hanging Hardware
All that's left to do now is to add hanging hardware. Sawtooth hangers and wire hangers are two common types. You can purchase these items online or at craft and hardware stores.
It's a good idea to do some research before buying hanging hardware for your DIY picture frames. Make sure that whatever you choose is appropriate for the size and weight of your large frame.
Optional Steps for DIY Framing
We've explained how to make a DIY picture frame with a mat, but it's also possible to make one with glass in front. To do this, you will need a router with a rabbeting bit. This will create a cut-out in the wood where the glass will lay.
Another optional step you can take is to create a decorative edge along the frame. You will need a trim router with a decorative edge bit. Some bits that are often used for this are chamfer, cove, Roman Ogee, and round.
Let Us Help You With Your DIY Framing
As you can see, DIY framing is a straightforward process and is a cheaper alternative to custom framing. But, not everyone is a DIY superstar. If you feel that you need some guidance with your DIY picture frames, we're here to help.
The Frame Room offers DIY custom framing services. Choose the frame and mat you'd like and we'll ship the materials to you to assemble at home. Don't wait, send us your order today!